Experienced Roofing and Gutter Repairs Gainesville VA
Part of the comfort of owning your own home in Gainesville VA comes with knowing that you and your loved ones are safe from the elements of nature. However, nature can do its share of damage to homes, particularly over the course of time. As a result, it is very important to maintain the structure of the roof that protects you and your family. When signs of a problem start to surface, finding a quality roofer is as simple as picking up the phone and contacting Castle Home Services.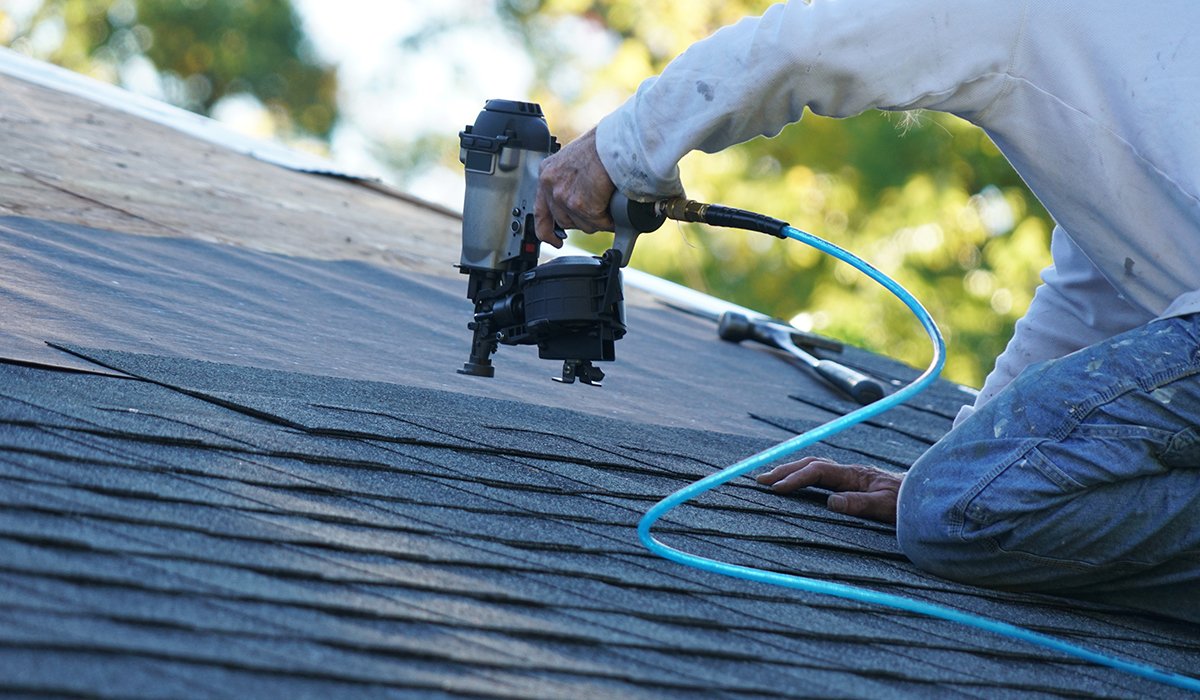 Roof Repairs Gainesville VA
When a problem arises with your residential or commercial roof in Gainesville VA, Castle Home Services can bring a solution directly to you. Our commercial and residential roof repair services provide a quick and affordable fix. Roof repair is available on all kinds of roofs, including those of the asphalt and rubber varieties.
The first step to roof repair is identifying the source of the problem, which is most commonly some sort of leak. However, some leaks are not located directly where water is coming through the roof. We will quickly locate the source of your leak and then make recommendations on how to solve the problem. Leaky roofs can be responsible for damaging drywall, rotting wood, and creating mold. The good news is there are repair solutions that can stop these problems and save your current roof. Many times, a leak in your roof will be caused by the following problems:
Faulty Flashing - Flashing is used on a roof to keep water out of a home or business. It is located around the chimney and its sidewalls. Mortar on a chimney will deteriorate over time and when that happens, the flashing will begin to loosen, thus springing an eventual leak. In these instances, the flashing would need to be replaced and sealed so that it can serve its function of repelling water.
Bad Pipe Boot - This refers to the plumbing that runs up and rests on top of the roof. Pipe boots are made of rubber and do not usually last as long as an actual roof. Harsh weather conditions can take a toll on that rubber and when it cracks, the result is a leaky roof. Fixing this problem not only requires replacing the rubber, but properly sealing it as well.
Gutter Clog - Harsh wintry conditions can freeze water inside of gutters, making them into large chucks of ice. When that occurs, excess water has nowhere to fall so it begins to work its way up into the roofline. That leads to water leaks on the outside walls of a building or home.  An Ice-and-Water Shield is used to fix these kinds of problems and prevent leaks from recurring
Storm Damage – Let us check for windblown or missing shingles allowing water infiltration.
Roofing Products We Use in Gainesville VA
We use GAF and CertainTeed shingles. Here is some important information about these roofing materials.
GAF Shingles
Advanced technology in every design
Built tough and to be wind resistant
Fire-resistant
Flexible
High-definition shingles boost curb appeal
Limited lifetime warranty
CertainTeed Shingles
Architectural style shingles
Wind Resistant
Large assortment of colors
Fire-resistant
Algae-resistant
Limited lifetime warranty
Residential and Commercial Roofing Services
When it's time to replace or repair your roof, choose the experts at Castle Home Services for quality materials and precise installation. We guarantee you'll be enjoying your roof for years to come. Here are some of the roofing services we offer and how we work.
Roof Replacement and New Roofs in Gainesville VA
Castle Home Services offers a comprehensive inspection to determine if your roof needs repairs or an entire replacement. Keeping the work area clean and your environment undisturbed: we tarp off the whole house, including shrubs, to ensure no damage to your home or landscaping. Meticulous removal: we strip off all the shingle layers on the roof down to the decking and reattach any loose plywood or roof board and replacing rotten wood. Premium ice and water barriers: we use GAF Storm Guard to protect from gutter ice backup and roof ice dams; it's installed around any penetrations such as skylights, vent pipes, bath vents, and static vents as well as walls and chimneys.
Underlayment installation: a synthetic felt, high-quality underlayment is placed on the remainder of the deck.
Rakes and eaves: heavy-gauge drip edge metal is used on these areas.
Aluminum step flashing is installed on all chimneys.
Flanges: aluminum/rubber flanges dress all vent pipes.
Roofing shingles: after all underlayment, flanges, and flashing is installed, the new shingles go down and are properly adhered to the surface as required by the manufacturer.
Ventilation: COBRA style ridge vents are available.
Quotes: we deliver quotes based on our recommendations that include labor, materials, and permit fees
Roof Inspections and Certification
Gutter Services Gainesville VA – Installations, Repairs & Maintenance
Castle Home Services provides complete gutter services that include: gutter installation, gutter repairs, gutter maintenance and the installation of gutter covers for Gainesville residents. We install all types of gutters including: wood, aluminum and copper all with a variety of color options. With over 20 years of experience we are confident we can provide you with a gutter solution that is both affordable and durable.
Residential and Commercial Roofing and Repairs in Gainesville VA zip code 20155.